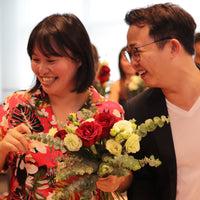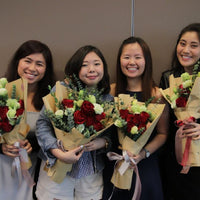 Beginners Hand Tied Bouquet Workshop
Come flower lovers, get hands-on and create flower arrangements. Learn the art of arranging flowers through spiral technique at our flower arrangement workshop. Lift your mood and express your creativity with flowers. Through our sharing, you can learn tips and tricks on how to develop your personal style as well as the conditioning and aftercare of flowers.
Workshop duration: 1.5hours

Minimum of 3 participants to start a lesson.


To Book:
At check out, select the workshop date as your delivery date and select self collection as your delivery type and enter participant name under the contact information.
No experience is needed. Tools and materials used in floristry are provided.
: Includes a choice of tea of your choice at The Fed Giraffe.
All fun, no stress, at the end of the workshop you will get to bring home your bouquet
For Corporate Orders and Enquiries contact +65 97111995 or drop an email to yours@lilasblooms.com
We offer complimentary message writing services please input your message or request under Special instruction for Seller by clicking on the 🛒on the top right hand corner after adding product to cart